Hey everyone, RCT Blog is back again this week with our third part of our series: LTL Bill of Lading Setup to avoid Re-bills- The Series.  In this section of our series, we will be talking about the ways you can make sure your description, NMFC#, and freight class are all matching up correctly.
Freight Description
On the BOL of any LTL shipment, the Freight Description must accurately match the freight that ships. When you find your NMFC#, the description used to describe you NMFC# in bold is exactly what needs to be used as the description on your BOL. Do not contradict the NMFC# description(Bold wording) with the freight description:
In the photo below, the bold wording is what is always used in the freight description.
Choosing Your NMFC#
Be careful when you are deciding on your NMFC#'s and make sure that the entire NMFC # description matches the freight accurately. If you do not include an NMFC # on your BOL, then carriers will inspect your freight. The NMFC#'s change regularly, so it is important to keep them updated and be aware when they do update. Your class should be supported by your product description, density, and NMFC#. If one of these is lacking support then you could be shipping in the wrong class.
Some NMFC# will have special packaging requirements, so be aware of all relevant notes and packaging requirements listed under the NMFC#'s. One last thing you will want to do is confirm that the selected nmfc# falls within the appropriate Group for the type of product it is.
Choosing Your Class:
When choosing a class for your LTL shipment you should always start with your product description and then find the correct NMFC# for your product. Once you find the correct NMFC#, then you can use the density of your pallet to determine the class. Most NMFC#'s are broken down into subs which change the class based on the density. If you don't know your NMFC#, it is best to run your shipment at the class associated with the density.  This diagram shows which classes go with each density:
                                                                          SUB                           DENSITY                          CLASS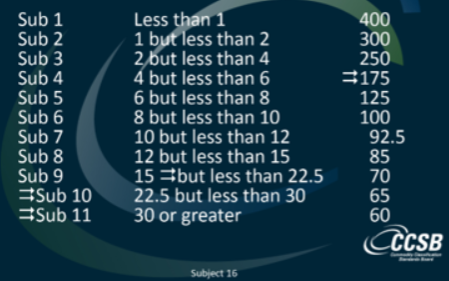 Now we have gone over the top 6 things that you need to have to help your freight broker reduce re-bills. They were; Knowing what accessorial charges are needed before shipping, accurately documenting weight and dimensions, and finding the correct NMFC# in order to provide the correct freight description and class. If you need help or have questions on how to find any of this information and RCT Specialist can help you today- call (763)-572-3788
You can check out the last post of this series here "The Top 7 BOL No-Nos" Please Enjoy!